Meet the Pets of Cedarhurst
When it comes to moving to a senior living community, you want to have all the right touches to make your new house feel like a home. Residents at Cedarhurst communities bring in their favorite art to hang on the walls, holiday decorations they keep in totes until the right season, heirloom furniture, and new bedding they splurged on. We love coordinating the move-in process for all of our new residents, because it's the first time we get to really know their personalities based on their home decor style.
But it's not all art and antiques and furniture that make a house feel like a home. For many residents, it's not really home until their pet moves in too. Our communities are proud to be pet-friendly, and we welcome new pets to the community with plenty of treats and snuggles. These animal friends become a part of the Cedarhurst community and culture, and we wouldn't have it any other way.
Here's a little bit more about the many pets of Cedarhurst.
Why Pets Are Important
Not all senior living communities are dedicated to finding a way to be pet-friendly for their residents. However, the Cedarhurst lifestyle is rooted in person-inspired care and the details that make every resident feel their best. For many of our residents, those details are furry and have a special spot on the couch, or they sport rainbow scales and swim in a tank beside the television stand.
Any pet owner can tell you that life is never the same once an animal companion calls you their own. Pets contribute positively to the owner's quality of life, and pet owners experience lower stress, decreased anxiety, improved blood pressure, and a decreased susceptibility to weight gain thanks to all of those extra walks.
In our communities, we've seen the benefits of pets extend well past the owner. Other residents in the community often stop to give a friendly ear scratch or belly rub when they see their neighbors' pets, and a pet often is a wonderful conversation starter between new friends.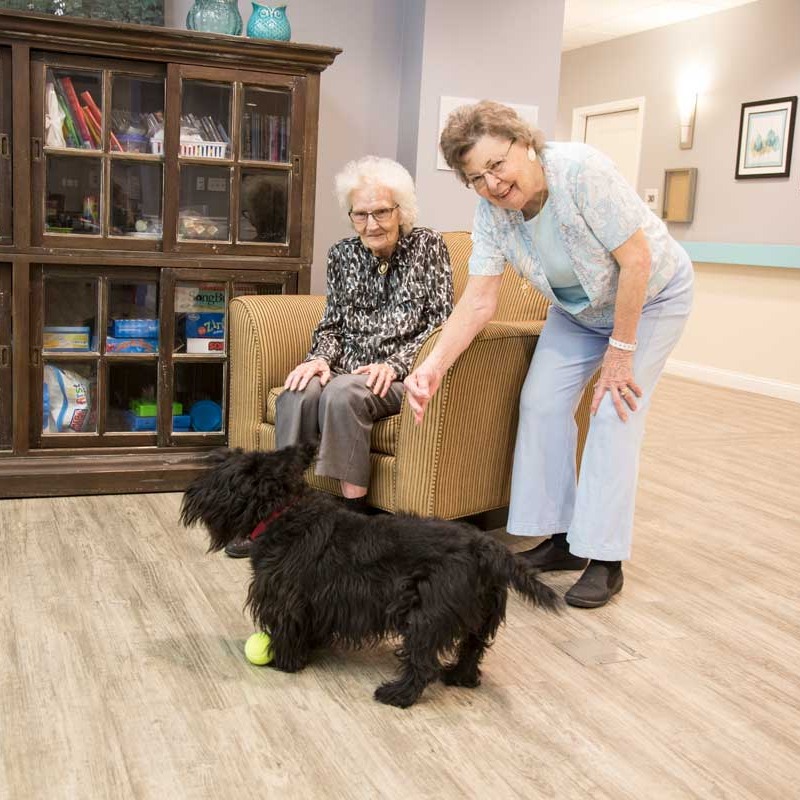 Catering to Cedarhurst Pets
Cedarhurst communities are pet-friendly, and that doesn't just mean we allow pets to live in resident homes. We also offer a pet-friendly atmosphere. Residents can easily take Fido for a walk on any of our manicured walking trails around the community or rest assured that a neighbor will always be available to help out with pet care duties while the owner is out on a trip with family.

We also have fun socials centered around pets, like a Halloween pet costume contest or a "Bring Your Pet" happy hour. Further, team members who enter resident homes to clean or provide other care assistance are friendly and welcoming to the pets they encounter as well.

At Cedarhurst, pets are a part of our extended family.
Is it the right time to downsize? Learn about your options and get personalized results in about 4 minutes.
Take the Assessment
Pet Stories You'll Love
Every Cedarhurst community can share at least one story of how a resident pet brought a smile to the faces of other residents, staff, or guests. Here are just a few stories of what pets can do in a senior living community.
Georgia and Charlie
Georgia and her cocker spaniel named Charlie were the morning greeters in their community. They woke up early to take their morning walk and then greeted residents who were on their way to breakfast. It wasn't long before everyone learned that Charlie had an affinity for chunks of bananas, which they all took turns bringing to him. Charlie loved his morning treats, Georgia loved getting to know her neighbors, and the other residents loved starting their day off on a paw-sitive note.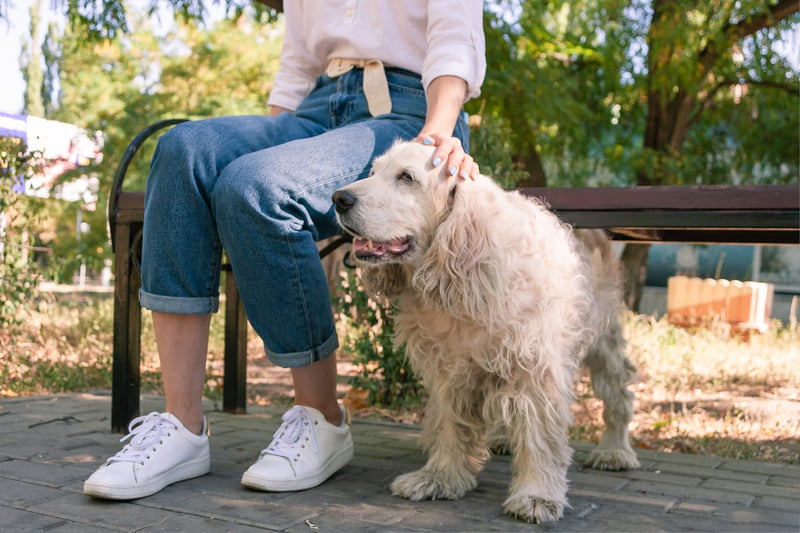 Evelyn and Gertrude
When Evelyn's cat Gertrude went walkabout and Evelyn couldn't find her, the entire Cedarhurst community sprang into action. Armed with her favorite treats, residents searched the community for Gertrude the adventurous cat. Soon she was found safely hiding in one of the library cabinets and was returned to Evelyn. The residents still tell the story of Gertrude.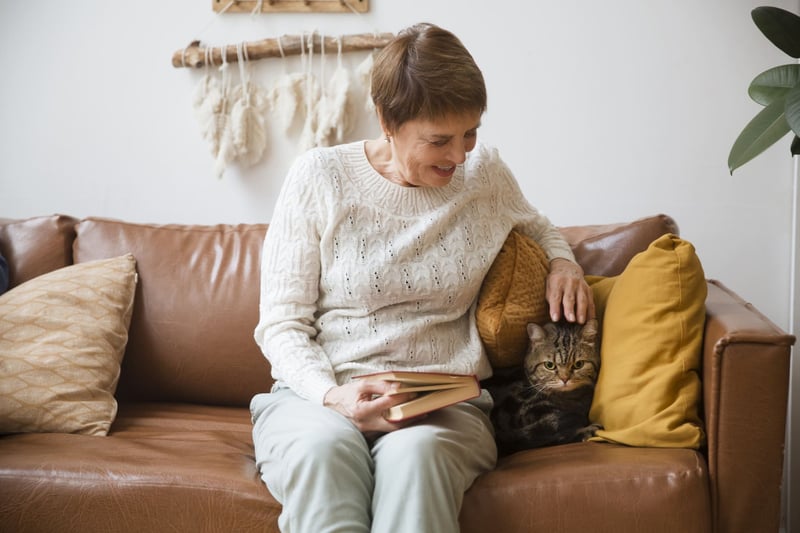 William and Buster
William was nervous about his move to Cedarhurst. While he knew that he was making the right decision and he was quite relieved to not have to cook dinner every night for himself, he was worried about the transition for his best friend of 10 years, Buster. William and Buster logged many adventures together over the years, including spending lots of time hunting.
Buster, a bird dog with a love for routine, was quite loyal to William but was not always sure about new situations. However, when the move finally came, William quickly saw that the Cedarhurst staff was just as committed to Buster's transition to his new home as they were to his own. The transition was smooth, the staff was patient and welcoming, and Buster made plenty of new friends.
Today, William and Buster meet up with neighbors every morning for their morning bird walk. The humans wait for Buster to point, showing that a bird is nearby, and they pull out their binoculars to get a closer look. Buster's Birding Club Walk is now a staple on the community activity calendar.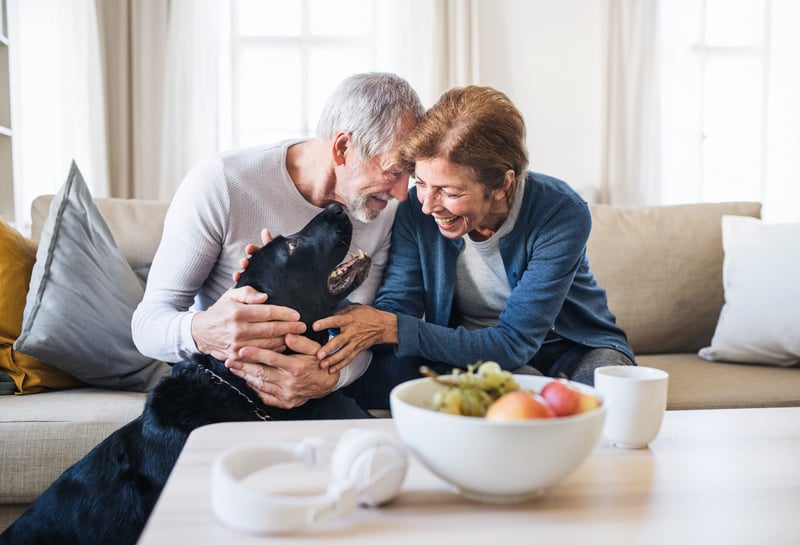 Lucy & Jimmy and Rita & Lemon
No one ever thought that Jimmy the barking dachshund would ever find a best friend in the form of a calico cat named Lemon who lived down the hall. However, when it comes to pets, life is full of pleasant daily surprises.
When Jimmy made it a point to stop at Lemon's door to sniff on his way out to his regular walk, Jimmy's owner finally knocked on the door to say hello. Lemon strutted out and the rest was history. Jimmy and Lemon meet up for daily romps around the hallway, and their owners—Lucy and Rita—are now friends too. Thanks to Jimmy and Lemon, Lucy and Rita have a meaningful connection, themselves.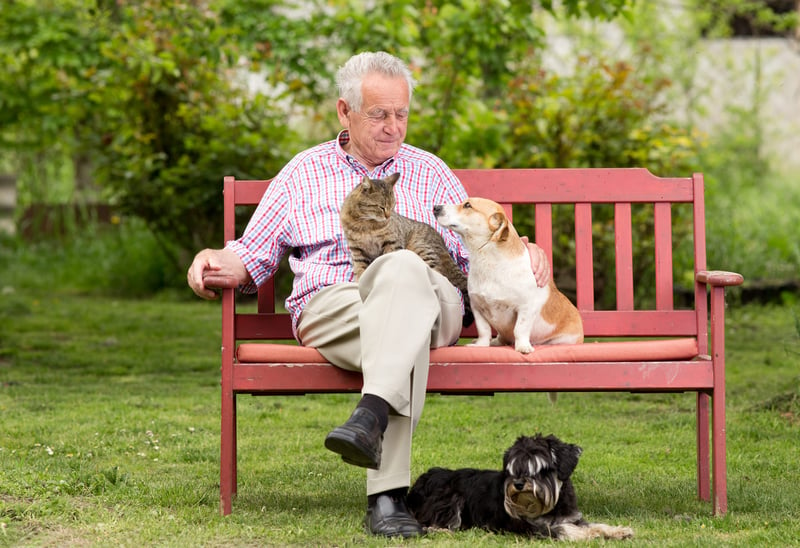 Dr. Hart and His Butterflies
Of course, not all pets live in the homes of Cedarhurst residents. Some stories involve colorful butterflies. Dr. Hart moved into a Cedarhurst community with his wife. As an expert entomologist who loves butterflies, Dr. Hart asked the community if they could create a butterfly garden.
Of course, the team said yes and partnered with the University of Missouri and Dr. Hart to create the perfect butterfly garden. It's a community-wide affair, with residents raising caterpillars in their apartments and everyone gathering at 4 p.m. daily in the spring and summer seasons to release new butterflies.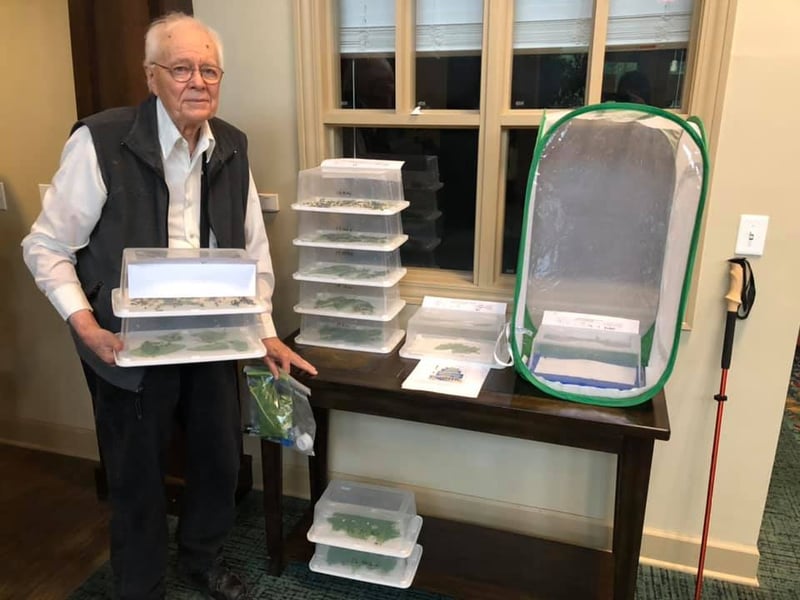 Bring Your Pet
When you choose Cedarhurst, you are choosing more than a beautiful apartment and luxury amenities. You're choosing an extended family of friendly neighbors and devoted staff members who will welcome you and your pet with open arms—and probably treats.
Learn more about Cedarhurst communities and how to choose the best senior living community for yourself and your pet.