GET REAL-LIFE ANSWERS FOR WHAT TO EXPECT WHEN IT COMES TO THE COST OF AN INDEPENDENT LIVING COMMUNITY.
Finding straightforward information about independent living community pricing can feel impossible. Assisted living and memory care information is easy to come by, but how much does it cost for an active senior in an independent living community?
For starters, we know it will cost less than assisted living, and it might even be less than you're paying at home now, after you add up all of your expenses.
When it comes to independent living, one price doesn't fit all. Download your guide now to: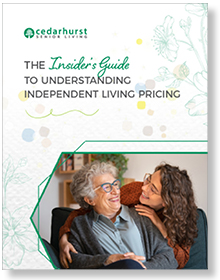 Get a clearer picture about what to expect when it comes to the cost of an independent living community
Compare independent living community costs to the cost of caring for your loved one at home
Understand which factors go into the monthly and yearly costs