FINALLY! REAL-LIFE ANSWERS FOR WHAT TO EXPECT WHEN IT COMES TO THE COST OF ASSISTED LIVING.
Assisted living pricing can seem confusing and elusive. Why? For starters, it can involve different levels of care, different lifestyle types, and different laws by state. Most of the time, assumptions about monthly costs are over or under what families actually end up paying for a loved one's senior living needs.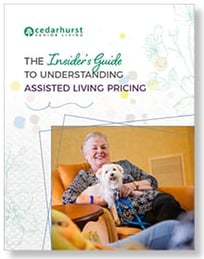 When it comes to assisted living, one price doesn't fit all. Download your guide now to:
Get a clearer picture about what to expect when it comes to the cost of assisted living
Compare the cost to what you're already paying to care for your loved one at home
Understand which factors go into the monthly and yearly costs
Looking for more information?
Learn more—check out what our senior living experts are talking about on our blog.
Explore Senior Living Lifestyles
Cedarhurst community lifestyle options provide residents with the appropriate level of assistance and independence.
Planning Ahead: When to Start Looking
Wondering when to start researching senior living options for your loved one? Here is what you need to know.
Read More #6 update link
The Difference Between Care Types
Explore the difference between senior living community care types to help you make more informed decisions.