Edwardsville Memory Care Student Project
Simple non-intrusive offer, pillar, blog, or a guide
Do you think when a senior at college thinks of the word, FUN, that interacting with senior adults is the first thing that comes to mind? Much to the surprise of five students from Southern Illinois University – Edwardsville, that's exactly what happened; and residents at Cedarhurst of Edwardsville were the reason.
As a final project for their upcoming graduation, these classmates were required to work with individuals one-on-one to improve movement, measure the results, and report their findings. While their classmates chose the obvious choices – local student athletes, young children, etc., these five students chose a different path. One member of the group, Megan, works as a caregiver at Cedarhurst of Edwardsville and saw the residents there as an open opportunity to benefit from this project. Little did she know that she and her classmates would receive much more benefit – personally & professionally – than anticipated from this adventure!
Adult seniors make up the largest group of those that need and benefit from therapy. So, Megan, John, Tyler, Leslie and Trevor set about meeting with ten different residents who had varying degrees of need. Over the next eight weeks, this group of dedicated college students worked with each senior through a plan of action for therapy created specifically for each person based on need, temperament and personality.
Mobility was by far the most common challenge for the residents of Cedarhurst of Edwardsville chosen. Improving posture, helping to increase their gait and working on the movement from sitting to standing were common in almost all of the care plans. The physical benefits from working with our residents twice a week for an eight-week period were astounding.
Out of the ten residents, 100% saw improvement in varying levels. The benefits were not just physical either. What was even more exciting and rewarding to both, residents began to form a trusting relationship with their student exercise therapist and anxiously awaited their visits each week. They found that 70% experienced an improvement in cognitive function as well and temperaments were better. "Behavior" outbursts decreased and most residents showed improvements in performing activities of daily living.
This type of personalized attention offered benefits for everyone involved. The students learned that working with seniors wasn't as intimidating as they originally thought and turned out to be a lot of fun. "It was amazing to see how time and attention made such a huge impact on the lives of our residents – both mentally and physically. Stepping out of our comfort zone allowed for us to experience a whole new level of care. It was beautiful to see the relationships develop" said Megan. Now, that's just fun!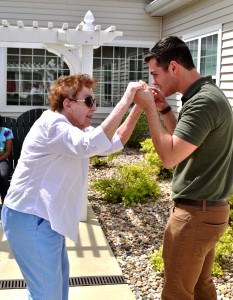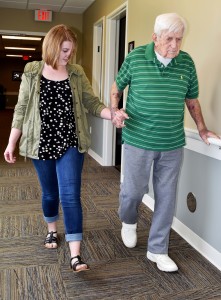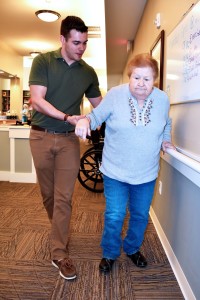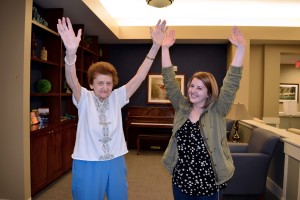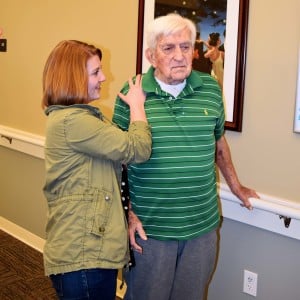 Simple non-intrusive offer, pillar, blog, or a guide
Stay connected lorem ipsum dolor nullam